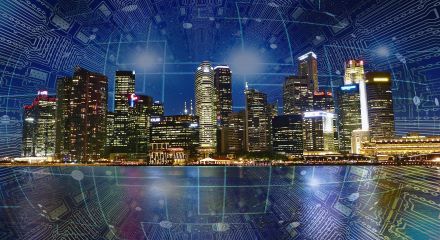 Examining new mobility solutions, autonomous vehicle readiness, digitization, logistics performance, policy and regulatory framework, and transport landscape and vision will enable stakeholders to measure smart city initiatives' success. (Frost & Sullivan: Digital Transformation Enabling the New York Smart City Future).
Growth Opportunities for Global Smart Hangars, (Dec 2021).
Actionable Strategy Enabling the Prague Smart City Future, (Mar 2021).
Digital Transformation Enabling the New York Smart City Future, (Feb 2021).
Technological Transformation Enabling the Future of London Smart City, (Jan 2021).
Sustainable Transformation Enabling the Future of Paris as a Smart City, (Jan 2021).
City Strategies and Innovative Mobility Solutions Driving the Future of Melbourne as a Smart City, (Apr 2020).
Future of Smart Cities—Key City Profiles, (Feb 2020).
Predicts 2022: Smart Cities IoT and Data Analytics for Sustainable Resilience, (Dec 2021).
3 Initial Steps to Address Unsecure Cyber-Physical Systems, (Nov 2021).
Future of Work Trends: Future of Work-Life Integration in Smart Cities, (Oct 2021).
Defining Urban Ecosystem Objectives and Measurements to Develop a Smart City Vision, (Oct 2021).
Emerging Trends in Smart City Development's Sustainable Initiatives, (Sep 2021).
Emerging Trends in Smart City Development's Sustainable Initiatives, (Sep 2021).
Hype Cycle for Smart City Technologies and Solutions, 2021, (Jul 2021).
Hype Cycle for Smart City and Sustainability in China, 2021, (Jul 2021).
Tool: AI Use Cases for Smart Cities and Intelligent Urban Ecosystems, (Jun 2021).
Predicts: Smart City Resilience and Citizen Experience Will Drive Sustainability and Urban Attractiveness, (Jan 2021).
From Smart City to Intelligent Urban Ecosystem — Unlocking Data Value Is the Key to Cities' Industrial Partnerships, (Oct 2020).
Post-pandemic Scenarios: The Future of Smart Cities, (July 2020).
Predicts 2020: Resilient Smart City Development Requires Data-Driven Engagement of Citizens and Businesses, (May 2020).
Case Study: City Possible: Mastercard's lesson in sustainable development and smart cities, (July 2021).
Reception of theSmart City Concept in the Opinion of Local Administration Officials – A Case Study.  By: Midor, Katarzyna; Kuzior, Aleksandra; Płaza, Grażyna; Molenda, Michał; Krawczyk, Dariusz. Management Systems in Production Engineering. Dec2021, Vol. 29 Issue 4, p320-326. 7p.
The smartcity transport and logistics system: Theory, methodology and practice. By: Savin, Gleb V.  2021, Vol. 12 Issue 6, p67-86. 20p.
Smartand Sustainable Cities Through Short Supply Chains of Food. By: Lampreia Dos-Santo, Maria José Palma; Baptista, Nuno. Proceedings of the European Conference on Management, Leadership & Governance. 2021, p162-170. 9p.
Planning Cooperation Between City Government and ICT Firms in the Context of Smart City Concept. By: K., Głębocki. Polish Journal of Management Studies. 2021, Vol. 24 Issue 1, p112-125. 14p.
Impediments to Driving Smart Cities: a Case Study of South Korea. By: Yiinjung Kim; Ha Hwang; Hojin Choi. Asian Journal of Innovation & Policy. 2021, Vol. 10 Issue 2, p159-176. 18p.
Traffic Safety Risk Assessment Of SmartCity Based On Bayesian Network. By: Erming CHU; Hongguo SUN. Economic Computation & Economic Cybernetics Studies & Research. 2021, Vol. 55 Issue 4, p295-309. 15p.
SmartCity vs Quality of Life with a Focus on Asia: A Sociological Appraisal. By: Sheykhi, Mohammad Taghi. Middle East Journal of Business. Aug2021, Vol. 16 Issue 2, p12-19. 8p.
Adaptive Fault-Tolerant System and Optimal Power Allocation for SmartVehicles in Smart Cities Using Controller Area Network. By: Biswal, Anil Kumar; Singh, Debabrata; Pattanayak, Binod Kumar; Samanta, Debabrata; Chaudhry, Shehzad Ashraf; Irshad, Azeem. Security & Communication Networks. 10/13/2021, p1-13. 13p.
Enterprise Ireland clients can access these reports and others during COVID-19 by contacting market.research@enterprise-ireland.com where our staff will be happy to assist you with your research requirements. 
Important note: All our resources are governed by copyright licence agreements which vary according to individual publishers.