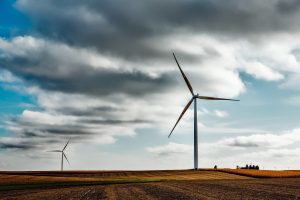 "Offshore wind is viewed as a much more environmentally friendly energy source than traditional approaches such as coal, oil and gas. Offshore wind is attractive because it has the potential to create large energy volumes with minimal environmental impact. It is considered a prime energy source in the future. Consequently, demand for offshore wind solutions is rising, and sales are increasing at double digit rates." – BCC Research – Global Markets for Offshore Wind Turbines
Onshore Wind Turbine Market (February 2020)
Engine, Turbine, And Power Transmission Equipment Manufacturing Market Competitor Briefing 2019 (November 2019)
Global Markets for Offshore Wind Turbines (October 2019)
Renewable Energy: Technologies and Global Markets (June 2019)
2019 Global Forecast for Wind turbines (2020-2025 Outlook)-Manufacturing & Markets Report (February 2019)
Frost Radar in the Global Onshore Wind Turbine Market (January 2020)
Growth Opportunities in the Global Onshore Wind Turbine Market, Forecast to 2025(December 2019)
Growth Opportunities in the Offshore Wind Turbine Market, Forecast to 2025 (November 2019)
Innovations in Solar Cell, Battery Energy Storage, Wind Turbines, Air Conditioning, and Hydrogen Storage (November 2019)
Emerging Technologies Transforming Offshore Wind Energy(June 2019)
Technology Innovations in the Global Wind Energy Market, 2030 (April 2019)
Innovations in Compressed Air Energy Storage, Marine Electrification, Wind Turbine Monitoring, Thermal Energy Storage, and Smart Energy Management(February 2019)
Wind Farm Construction in Australia
Wind and Other Electricity Generation in Australia
Wind Power in China
Geothermal, Wind and Other Electricity Generation in New Zealand
Denmark – Power Generation (December 2019)
Scandinavia – Renewable Energy (November 2019)
Netherlands – Renewable Energy (November 2019)
Asia-Pacific – Renewable Energy (November 2019)
Brazil – Renewable Energy (November 2019)
Canada – Renewable Energy (November 2019)
Wind Turbine Manufacturers; Suppliers & Installers Industry
A novel systemic approach for analysing offshore wind energy implementation.
By: Varela-Vázquez, Pedro; Sánchez-Carreira, María del Carmen; Rodil-Marzábal, Óscar. Journal of Cleaner Production. Mar2019, Vol. 212, p1310-1318. 9p. DOI: 10.1016/j.jclepro.2018.12.079. , Database: Business Source Corporate Plus
Micro-scale classification of offshore wind energy resource ——A case study of the New Zealand.
By: Zheng, Chong-wei; Li, Chong-yin; Xu, Jian-jun. Journal of Cleaner Production. Jul2019, Vol. 226, p133-141. 9p. DOI: 10.1016/j.jclepro.2019.04.082. , Database: Business Source Corporate Plus
Public estimates of support for offshore wind energy: False consensus, pluralistic ignorance, and partisan effects.
By: Sokoloski, Rebecca; Markowitz, Ezra M.; Bidwell, David. Energy Policy. Jan2018, Vol. 112, p45-55. 11p. DOI: 10.1016/j.enpol.2017.10.005. , Database: Business Source Corporate Plus
The Offshore Grid: The Future of America's Offshore Wind Energy Potential.
By: Fox, Benjamin. Ecology Law Quarterly. 2015, Vol. 42 Issue 3, p651-698. 48p. , Database: Business Source Corporate Plus
Do tidal stream energy projects offer more value than offshore wind farms? A case study in the United Kingdom.
By: Lamy, Julian V.; Azevedo, Inês L. Energy Policy. Feb2018, Vol. 113, p28-40. 13p. DOI: 10.1016/j.enpol.2017.10.030. , Database: Business Source Corporate PlusImportant note

: All databases are subject to copyright which will be explained to clients on their visit. The use of cameras and USBs in the Centre is strictly prohibited.